At VW, owned by John Vermeiren and his wife Lia Wouters, almost a third of production still consists of classic, authentic beef tomatoes. The tomatoes grow in trusses, but are picked and offered for sale individually. The 10-year-old cogenerator was replaced by a new installation with a higher return. As a pioneer of Belgian tomato production, John has fired the enthusiasm of young growers and he leads the way in assimilation lighting, so that Belgian tomatoes are available all year round.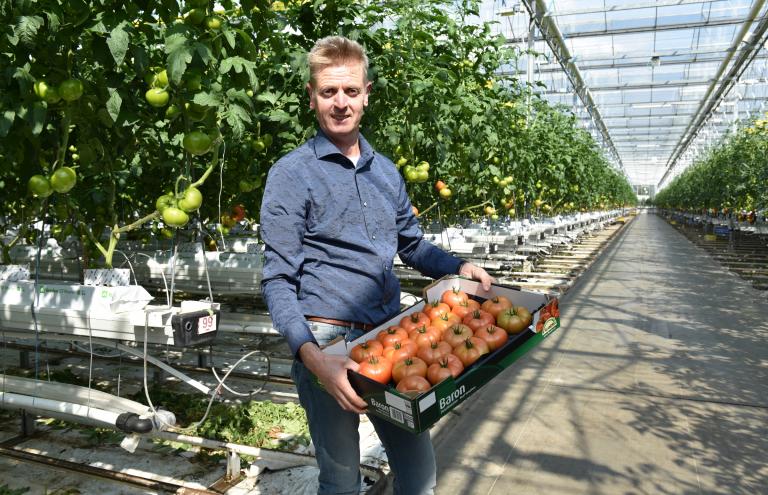 From father to son
John: "As the son of a horticulturalist, it was self-evident that I would go to the horticultural college. This year, it's 30 years since we started growing tomatoes in greenhouses. Our greenhouses have expanded from initially 7,000 m² to 8.3 ha and we increased the height from 4 m to 5.25 m at present. Like all growers, we started by growing beef tomatoes. At the time, that was the only type of tomato crop being cultivated in Belgium. In 1997 we planted Roma tomatoes (in trusses and individual tomatoes). We were the first to start growing this new crop at the time. Over the years new varieties have been added, but the large, ribbed beef tomatoes have remained and there is still a demand for them. Even if the number of varieties has increased enormously, many of them have disappeared in the meantime."

A tasty future
"Nowadays tomatoes are generally bred on the basis of their flavour. This is a positive evolution. Consumers are more aware of what they buy and look for the flavour most suitable for combining with pasta or meat or to eat raw. We have taster tomatoes, that we taste ourselves to check their flavour properties. Of course it is not the only factor that has to be taken into account: they must look good and be vigorous enough to grow all year round."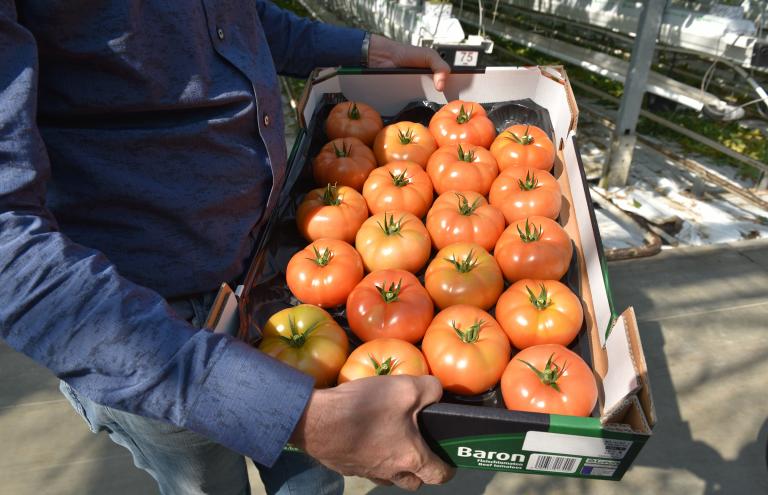 From field to auction
Lia: "Everything moves very fast. The tomatoes are ordered, harvested, taken to the packing centre, packaged and prepared for transport. The tomatoes that are harvested here in the morning go to the auction in the afternoon where the client collects them. They're in the shops the next day. The price is determined at auction and is the same for all the growers."
FLANDRIA BEEF TOMATOES ARE AVAILABLE FROM BELORTA, COÖPERATIE HOOGSTRATEN AND REO VEILING.